Introducing the next generation console, the Xybix Eagle. With an ultra-durable 20+ year lifespan, this new command center console provides a rock-solid steel frame and aesthetically pleasing finishes proving to be tougher and quieter than ever before.
With unsurpassed ergonomics, the future of dispatch consoles is here with:
3D laminated work surfaces with seamless and contoured edges.
Low profile, easily re-configurable monitor mounting for any monitor combination.
Improved sight lines for better communication.
Low profile dimmable LED task lighting.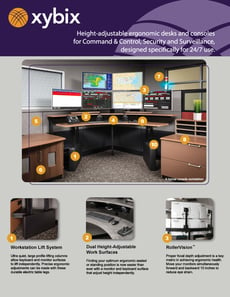 Want to download more features? Fill out the form over here --->