Xybix vs. Other Dispatch Desk Providers
Curious how Xybix 911 Dispatch desks stack up with the competition? Learn how Xybix compares to other desk providers including EVANS, Russ Bassett, and Watson.
Xybix vs. the Competition:
Other Dispatch Desk Providers
In a consumer society with endless options, it's easy to feel overwhelmed by all the choices. The best strategy is to make sure you're comparing apples to apples and focus on the features you really need—whether you're buying an actual Apple product, a car or a control room console. To help with your research on consoles, we've compiled details on key differences and a handy side-by-side comparison chart based on the Xybix Eagle line of products and options.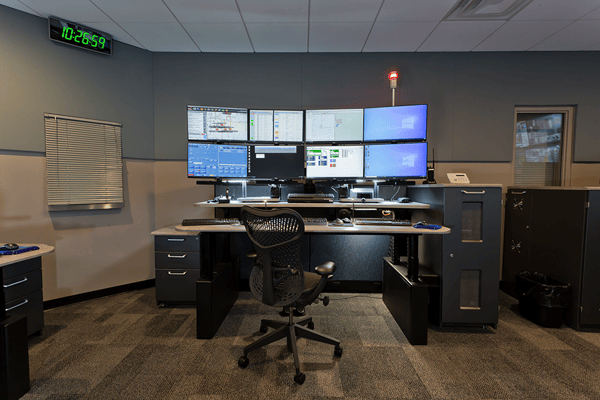 Xybix vs. EVANS Consoles
When you look for innovation, EVANS Consoles and Xybix stand shoulder-to-shoulder in offering unique features for operators and dispatchers. The EVANS and Xybix consoles carry a lifetime warranty on the parts they manufacture. A significant difference between these companies is access—the proximity to the manufacturing plant, the availability of the customer service department and the number of entities the product sells through to get to you. Xybix products are made in the USA, the company takes pride in the 24/7 customer service department and it does not sell through a dealership network. Another difference between EVANS and Xybix arises in comfort and ergonomics.
AMPLE KNEE & LEG SPACE
Space for your knees and legs goes beyond the desire to stretch out on a long shift. This space is dictated by OSHA for safety and necessary for proper ergonomic positioning.
EVANS Consoles provide ample space for computers under the consoles but not quite enough room to really stretch out and get comfortable. The Xybix Eagle consoles place computer cabinets off to the side, leaving plenty of space to stretch while remaining productive. A user in a wheelchair or walking boot will appreciate the extra space.
CUSTOMER SUPPORT WHEN YOU NEED IT
In control rooms, teams answer the phone and serve their communities and customers 24 hours a day. Don't these dedicated users deserve the same level of service when something goes wrong?
EVANS Consoles has struggled to provide quick and effective solutions for their clients' needs. This is why Xybix pulled best practices from other industries and developed a live 24-hour customer service process. Give them a call and you'll hear the difference yourself. Xybix also works to ensure that all parts are available until aging products are truly obsolete.
ERGONOMICS FOR ALL
Consoles must be adjustable so users of any size can maintain neutral wrist alignment while standing or sitting with feet comfortably on the ground. These types of ergonomic adjustments matter in dispatch, utilities and healthcare roles that require 10- to 12-hour shifts.
EVANS Consoles fall short here with an adjustable range of 29" to 45.5". The Xybix Eagle sit-to-stand desk adjustable range is 22" to 48", accommodating everyone from a 5th percentile sitting female to a 95th percentile standing male. Whether you're 4'11" or 6'2", the Xybix console lowers or raises to suit you.
MADE IN THE USA
Location matters when it comes to efficient delivery and service.
EVANS Consoles manufactures up in Calgary, so your freight charges include that extra distance. The Xybix manufacturing facility is conveniently located in Littleton, Colorado, smack in the middle of the United States. We provide good jobs in our community and stand at the ready for any service needs.
THE BENEFIT OF A FAMILY-OWNED MANUFACTURER
When you work with a business that is owned and run by family members, they take your projects personally.
EVANS boasts nearly 40 years' experience in manufacturing and designing for control rooms, but the corporation is driven by financial interests. With Xybix, the Carson family has been involved in the day-to-day business for 30+ years. Dave Carson and his sons Kenny and Barry are passionate about quality, safety and ergonomics to ensure that your employees are able to be at their best every day. If you have an issue with a Xybix console, the family reputation is on the line and they are ready to serve.
Xybix vs. Russ Bassett Consoles
Few companies will work as hard for your business as the teams at Xybix and Russ Bassett. Both have expert sales organizations that know how to get you answers fast. Where Russ Bassett falls short is in usability, ergonomics, safety and warranty. Your IT department, for example, needs easy access to monitors to make quick replacement and a reliable cooled space for CPUs.
EASILY SWAP IN LARGER & CURVED MONITORS
If it seems like everyone is upgrading from 24" to 42" (and bigger!) screens, it's because they are. Prices are going down while monitor size and resolution are going up, leading to proven gains in productivity. Consoles need to be able to handle the weight and shape of these new screens.
The Russ Bassett solution works well in terms of monitor placement, but has some issues. The screens are mounted on monitor arms that mount to a slatwall array. The monitor arms, however, often are not strong enough to bear the weight of the monitors. Over time, the arms start to sag and require continual tightening. In addition, lifts under the slatwall intrude on your leg space under the console.
Xybix engineers foresaw the need to manage more and heavier monitors and designed a multi-monitor array to handle these larger and curved screens. The curved arc fits the arc of the new curved screens, and the solid mounts prevent droopy screens. As a side benefit, the monitor array allows for easy ergonomic adjustments at shift change.
REDUCED NECK STRAIN FOR STACKED MONITORS
When you need to stack multiple monitors—which is almost all the time—the monitors need to be carefully positioned to prevent eyestrain and neck pain. Being forced to look up, look down and constantly refocus your eyes during a 10- or 12-hour shift is literally a pain. Today's larger monitors can make the situation even worse.
Russ Bassett's single-surface consoles offer no way to lower the top row of monitors to reduce neck strain. Xybix provides dual-surface consoles so multiple rows of monitors can be ergonomically aligned for all users. Monitors placed at the proper focal distance with a 25° downward view angle prevents both neck and eye pain.
ACTIVELY COOLED, REDUNDANT CPU ENCLOSURE
When CPUs are stored in cabinets for safe keeping, the computers need to remain cool and IT needs easy access.
Russ Bassett cabinetry offers only passive cooling, expecting the computer to self-cool with ambient air. Xybix cabinets, on the other hand, feature dual built-in redundant cooling fans, LED lighting, expert cable management, and height-adjustable shelves. The largest computer cabinet at Xybix cycles fresh, cool air every 20 seconds.
DURABILITY TESTED TO THE BIFMA STANDARD
The Business and Institutional Furniture Manufacturers Association (BIFMA) develops safety and performance standards to ensure the safety and quality of office furniture solutions. To meet voluntary BIFMA standards, manufacturers must submit products for rigorous testing that encompass setup, strength, durability, usability, stability and more.
Russ Bassett consoles are not BIFMA certified. All Xybix products and moving parts are engineered for optimal performance and they easily withstand BIFMA testing. These third-party tests help ensure superior product performance over time.
CONFIDENCE THROUGH WARRANTIES
When you believe in your product, it clearly shows in your warranty program. For consoles used in mission-critical 24/7 organizations, you want to know that products are made to last and repairs guaranteed.
Russ Bassett has a nice 10-year warranty program. But the company will not warranty anything they sell for more than 10 years—even with the parts they manufacture. If you want a warranty that covers your product for as long as you own it, look to Xybix. All Xybix-manufactured parts are warrantied for life while moving parts are guaranteed for 10 years. Many Xybix customers are still working happily at consoles that are 12–20 years old.
Xybix vs. Watson Consoles
Xybix and Watson both build durable console furniture using a combination of sustainable wood and steel. These companies are both privately owned and have been in the industry for decades. Both offer lifetime warranties on the parts they manufacture, and their workstations feature ample legroom. But the similarities end there. If you're in need of comfortable, ergonomic corner stations, Xybix is the clear choice.
CURVED OR STRAIGHT CONSOLES
According to our customers, "People are round—some more than others—and long shifts at straight desks can be painful." Curved workstations are a better ergonomic option as they maximize your primary reach zone, putting frequently used items within easy reach.
Watson makes a beautiful modern product, but their Mercury line offers only straight workstations. Xybix, on the other hand, offers the flexibility to fit the user first, then fit our product into your room. The Eagle line offers both curved and straight workstations to suit all your needs. Xybix encourages the use of curved workstations for proper ergonomics, but the straight option may be necessary in larger layouts.
EASY MONITOR SWAPS
Upgrading stationary monitors is not easy. You may need to crawl on the floor or throw yourself across the desk to reach the back of the monitor. In addition, consoles need to accommodate ever-larger and new curved monitors.
Watson's Mercury solution supports different monitor sizes, but it is not easy to swap out monitors. No so with the Xybix patented Rollervision system. The sturdy arc allows for quick release and replacement of monitors using the standard VESA mounting brackets that adapt to all monitors. When upgrading to large screens or wide curved screens, Rollervision's arc support system is designed to fit the largest and most challenging setup. (Bonus: Rollervision makes it a snap to achieve the proper focal distance and prevent tired eyes.)
LIVE CUSTOMER SERVICE AGENTS
When you need help, you need to talk to a person not a recording. Critical work in dispatch centers, control rooms and healthcare doesn't stop and wait until business hours.
Watson has a customer service department that is helpful, but you cannot talk to a live person during the 24 hours a day that your team is on shift. At Xybix, a live person answers your call 24/7 and prioritizes the issue. For critical issues, your call is routed to the on-call customer service manager or one of the Xybix owners to take immediate action. If the issue can be resolved later, the customer service team responds appropriately and ensures quick resolution. Xybix customer service boasts 98% on-time success rate.
PROJECT MANAGEMENT & CARPET INSTALLATION
You know how it goes even at home—you rearrange the furniture and spot a dire need for new carpet. This situation occurs x10 with the removal of control room consoles. Holes in the floor for the prior electrical configuration, faded walls where filing cabinets stood. It's likely that you'll want new flooring, and it's as likely that you'll appreciate help managing all the tradespeople.
The difference between Watson and Xybix is vast here, as only Xybix has a field operations team with decades of flooring contractor experience. Xybix even has carpet tile samples and can offer installation quotes for your upcoming project.
Features Comparison Chart
Features

EVANS

Russ Bassett
Flex Consoles

Watson

Standing Desk Height Range1
22" - 48"
29" - 45.5"
22.6" - 48.7"
24" - 50"
ANSI/HFES 100-2007 Compliance
Single-Reach All-Monitor Adjustment
Easy Monitor Replacement or Expansion for 49" Curved Screen
Second Tier Monitors can be Lowered to Eye Level
Ample Knee and Leg Space
Warranty: Lifetime on Manufactured Parts
Warranty: Total Years for Moving Parts
10 Years
3 Years: Climate/Lighting
5 Years: Arms/Lifts

10 Years
10 Years: Parts
5 Years: Labor
Manufactured in the USA
24/7 Live Customer Service Department
Degreed & Dedicated Interior Design Team Based in the USA
Designers: Yes
Degrees: Unknown
Designs in 3D with Revit or AutoCAD for Architects
Has Various Room Layout and Configurations
Greenguard Certification2
BIFMA Certified: All Moving Parts Passed & Certified3
IT/CPU Access without Stopping Work or Removing Panels
High-Efficiency Acoustic Panels (>.70 NRC)
Has National Buying Contracts including GSA(1), HGAC(2), or NASPO(3)
1, 2, & 3
1 & 2 only
1 & 2 only
1, 2, & 3
Panel Wall Options include Acoustic, Slatwall, Whiteboard, Melamine and Glass
Active-Cooled, Redundant CPU Enclosure
Project Management and Carpet Installation Services
In-House Installation with Live Cutover Expertise

Features

EVANS

Russ Bassett
Flex Consoles

Watson
Height range refers to the lowest and highest position the sit-to-stand desk frame allows. Xybix furniture adjusts to the perfect ergonomic position for someone 4'11" all the way to 6'2", sitting or standing, an ANSI/HFES 100-2007 requirement.

UL Greenguard Certification indicates the consoles have been independently tested to meet one of the most stringent chemical emission standards in the world. See the Xybix certificate here.

BIFMA (Business and Institutional Furniture Manufacturers Association) certified consoles have been tested by independent labs to meet standards for durability, stability and safety. Xybix took BIFMA compliance a step further. At the headquarters, Xybix quality engineers ran the frame up/down for 20,000 cycles with 300 lbs on the desktop to test its durability against competitors' frames. The tests ran 24/7 for 3 months and proved that Xybix is producing the highest quality in the industry.
Note: These comparisons are based on information published on company websites and in public RFPs; competitor information is current as of October 2020
Contact Us
Have questions about our 911 dispatch desk comparison? See something you like? Fill out the form below and a member of our team will be in touch soon!