Xybix AXYS
Custom Control System for Xybix Desks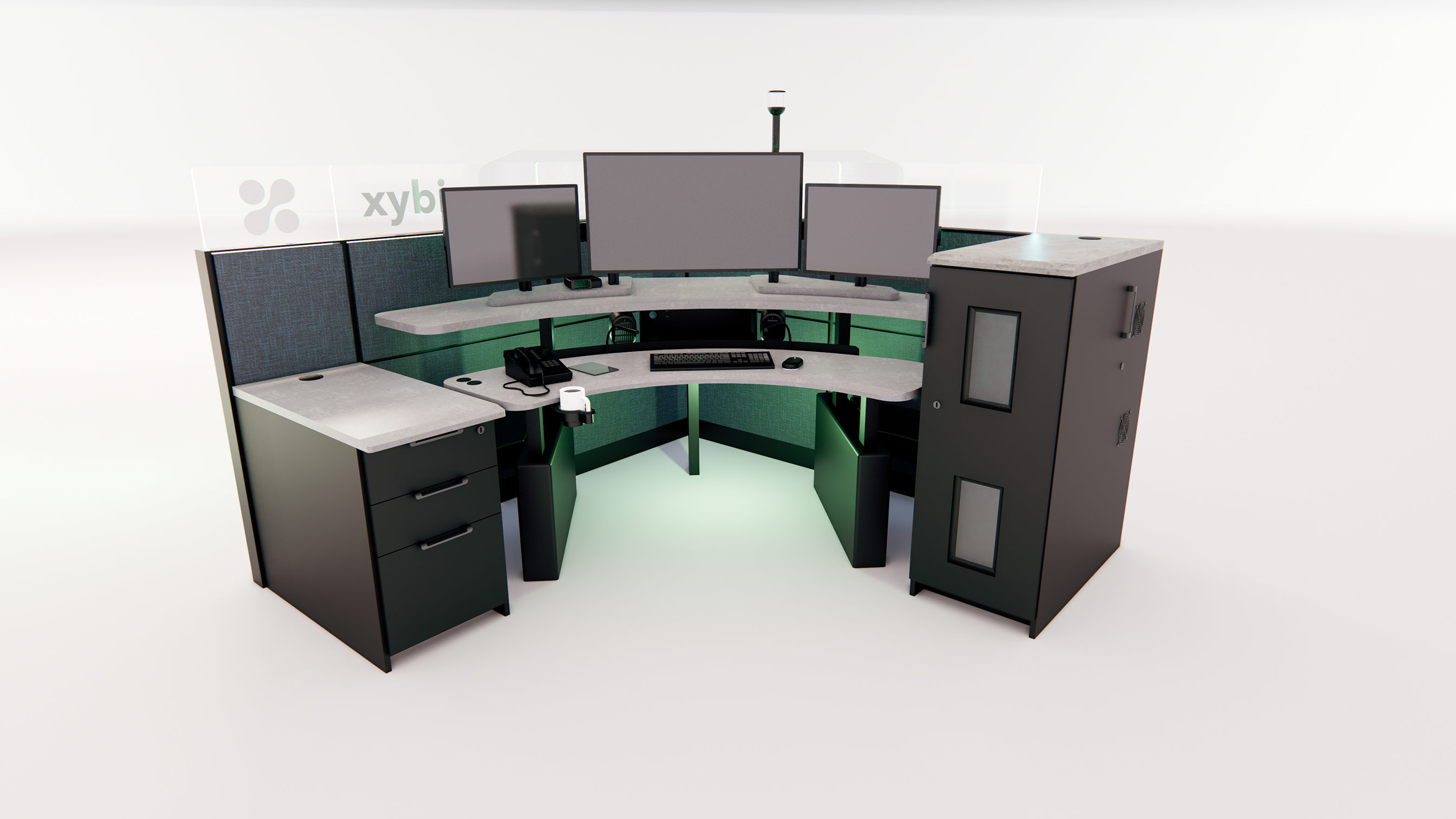 Create your Scene with the Xybix Axys

The all-new Xybix Axys is an all-in-one control center that brings an integrated, personalized experience to your console. It allows you to control a variety of settings for your desk via your existing Windows 10 or 11 PC, iOS devices, and Android devices. Features you can customize include:
Desktop heights
Monitor shelf height
RollervisionTM monitor arc height
Task lighting color + brightness
Bias lighting color + brightness
Panel acrylic lighting color + brightness
Heating
Cooling fan speeds
Additional features (like calorie/fitness tracking)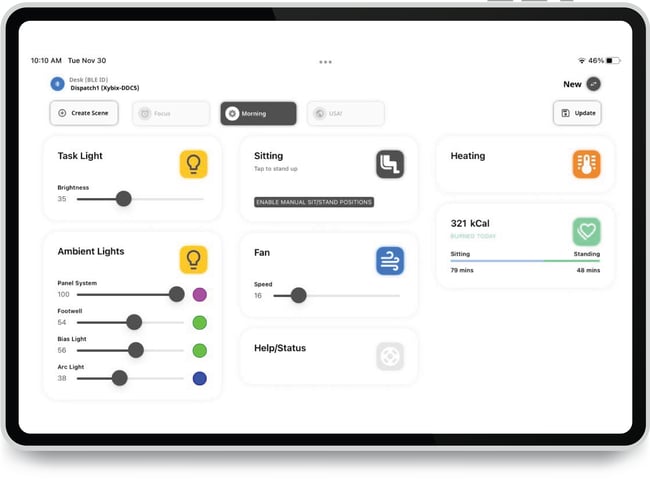 Have specific settings that work best for you? You can create and save presets, called scenes, that reflect how you work best throughout the day. Create all the scenes you need so that one touch of a button creates the perfect ergonomic environment with the lighting and temperature you prefer.



Version 1.5.4, Released on 11/16/23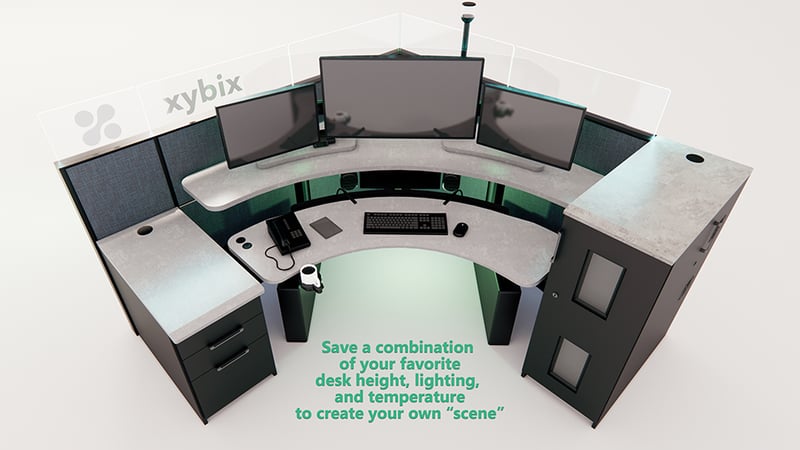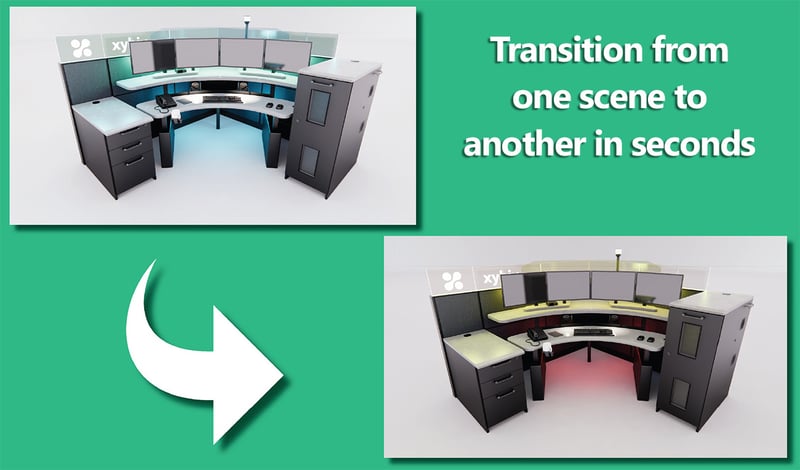 See Axys in action in this short video, hosted by Xybix co-owner, Ken Carson:

With Axys, you have the ability to truly make your workplace your own. You can truly "create your scene."
Axys FAQs
How is it connected to my desk and where do I get the Axys software?
The Axys control box is hardwired under the worksurface. Axys software drives that control box either from a USB wire from a computer or via Bluetooth 5.0 from a dedicated tablet (iOS or Android). iOS and Android devices can download the Axys software from their respective app stores. Users can download the software via the links at the top of this page.

See the diagram below for details on how each device works with Axys:


[Click to enlarge]
How much does it cost?
This depends on how many features are added to the Axys order. The base software that operates your console functions begins around $1,000. A fully loaded system, including cooling fan, heaters, task lights, footwell lighting, down bias lighting, monitor arc lighting, and a status light, will run about $2,400. Additional features like panel system acrylic lighting and custom etched logos could cost more. The average customer spends about $2,300 per workstation.


How do I add status indicator lights to Axys?
Axys gives you two options for status indicator lights. You can use the Axys priority single-tier light with a multitude of colors, or connect a multi-tier banner status indicator light. The help or status feature turns on the dedicated light on the banner light. That help or status feature can also be programmed to be the highest priority light setting to override other light settings such as active phone or active radio lights.


Does the tablet or iPad come included with Axys?
No. Xybix can purchase and resell a tablet if required. Customers may also acquire their own devices.


Does Axys require a subscription?
No.


Does this system utilize the internet or breach any firewall?
The Axys software does not communicate beyond the desk to which it is attached or assigned. The software does not utilize the internet to control the desk and there is no firewall conflict.

What do I do if I need troubleshooting help?
Axys support information can be found here. You can also contact Xybix's Customer Service department at customerservice@xybix.com or 1-800-788-2810


We cannot use a computer (Windows device); how can we use Axys?
You may purchase a dedicated tablet (using iOS or Android) and control Axys from that device.


Do you have options if we do not want Axys on our system?
Axys is the only system available to manage all the innovations in comfort, ambient lighting, and status lights. Xybix can provide manual switches for limited lighting solutions if requested.


What are the wellness benefits of using Axys?
The tracking feature in Axys allows each user to log their standing/sitting behavior and log their caloric output. Individual profiles allow for personalization and more detailed caloric output information. Wellness programs can utilize Axys to boost their outcomes for health.
Contact Us:


Have questions about our AXYS system or about Xybix furniture in general? Let us know! Fill out the form below and we'll get back to you as soon as possible.