Kathleen Utley
Director of Marketing


In September of 2010, Kathleen began her career as the Director of Marketing at Xybix. Kathleen has known the owners of Xybix, the Carson family since she was about twelve years old. As an active member of the Winter Park Volunteer Ski Patrol (of which both Barry and Ken Carson are also members), when the Marketing position opened at Xybix, it was a match made in "powder heaven".

A Colorado native, Kathleen received her Bachelor's Degree from the College of St Benedict/St John's University in St. Joseph, MN. While attending, she studied Graphic Design and Advertising. After moving back to Denver, in 2009, Kathleen received her MBA in Marketing from Regis University.

I love working for Xybix, to me, it's like working for family. I love getting to meet our customers and talk about our furniture at tradeshows and events. I am challenged everyday with my job because I touch so many aspects of the business from website content and design to social media, tradeshows and more. I am passionate about helping Xybix succeed as a company and create meaningful relationships with our customers. I am thrilled to work for a company like Xybix and I strongly believe that the future holds great things in store for our customers and company.

In my free time, I enjoy skiing, hiking, fishing, biking and sprint triathlons. I have a furry child, a dachshund, Cooper. We enjoy the mountains and outdoors.

I also love Chick Fil'A, movies and shopping!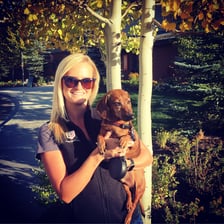 Blogs Written by Kathleen Utley:
PACS Workstation Furniture: 10 Quick Tips to Consider Before Buying