Red River Regional Dispatch Center, Fargo, ND (8 positions)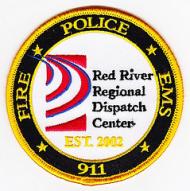 The Challenge
The Red River Regional Dispatch Center (RRRDC) knew back in 2010 that they needed to upgrade their aging workstations. The current work stations did not meet with the ergonomic needs of the employees and they provided no environmental controls or safeguards. In addition, the workspace and floor plan made for a constricted traffic pattern. Finally, the dispatch center had unacceptable noise levels.
The Plan
Xybix Systems Inc. assigned a professional designer to work on our project who provided a number of floor plans to review, along with key decision making advice in coming up with the best possible product. Once these initial decisions were made production began on a custom design to fulfill Red River's needs.
The Execution
Much like looking at the perfect floor plans for a new house one never can quite get the sense of every nuance until the house is actually built. This was true in our project as well. The final outcome was somewhat of a surprise as the amount of increased workspace became obvious yet at the same time the floor space increased in a room that didn't change in dimension. The functionality was everything that we planned for and the aesthetics of the room increased dramatically for the employees. Dispatchers are afforded the workspace they need, the ability to make any adjustments necessary, and have the environmental safeguards of anti-bacterial laminates and airborne germ eliminators. Our radio, telephone and computer technicians are very pleased with the design for working with their respective CPUs and cabling along with the enhanced power and cable management systems. The overall comfort levels for the dispatchers has been greatly increased thus leading to higher worker satisfaction.
Xybix installed 8 ErgoPower X4 Tables.