Since 1991, Xybix has designed, planned, manufactured, installed an expansive list of customers including NASA, the CIA, the FBI, San Francisco Department of Emergency Management, Spaceport America, Phoenix Sky Harbor Airport and over three thousand communications centers across North America. Xybix uses three simple approaches as the basis for our furniture: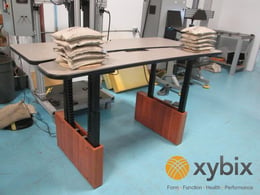 1. Make furniture that is durable and can last. Designed to meet industry accepted standards for durability and structural integrity. Xybix's work stations have been tested by independent labs and are in compliance for structural integrity, durability and safety standards from BIFMA (Business and Institutional Furniture Manufacturers Association) and ASTM (American Society for Testing Materials).
2. Make Customer Service a high priority. Xybix's customer service department is staffed by two full time employees. Each customer service request is assigned a "case" number and is tracked for timely execution with complete customer satisfaction as our goal.
3. Make the warranty simple, easy to understand, all-inclusive and HONOR it! Should you have any questions with regard to warranty, please email or call us, we will be happy to discuss.
Performance guarantees are only as good as the Company behind them. Xybix believes that our twenty plus year history and proven commitment to our valuable customers that Xybix is a true leader in the ergonomic furniture industry.